USA
PATRICK DOUGHERTY
Beginning about 1980 with small works, he quickly moved from single pieces on conventional pedestals to monumental site-specific installations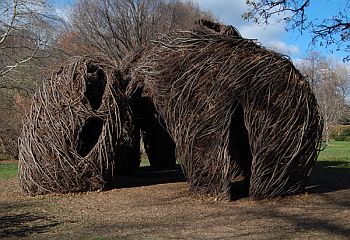 NYC
- Walking through the Brooklyn Botanic Garden, I arrived in front of a very unusual creation.
A bulge of dry twigs, tangled and twisted in bizarrely harmonious way that invites the eye to examine it in detail, invites you to approach it nearer.
For a moment I thought it was a "construction" for a live sculpture or topiary. Yet, looking longer at these twisted sticks I was struck by their powerful presence among this well sculpted landscape. It seemed not only to fit in the space, but to own it.
Contemplating if this could in itself be a sculpture, I looked at the map guide that was handed to me at the entrance to the garden and found I was correct.
I was standing in front of Patrick Dougherty's sculpture titled Natural History. For their centennial celebration, the BBG asked Dougherty to create this monumental wood-woven piece in the garden.
Patrick Dougherty combined his strong carpentry skills with his love of nature and from this union emerged a new passion for sculpture.
His studies of primitive building techniques and experimentation with tree saplings resulted in extraordinary art pieces now installed in many different parts of the world.
Dougherty's innovative use of old building techniques and organic materials beautifully tangles in art, architecture and landscape.
His pieces encourage the viewers to enter and interact in the natural, almost primitive, yet very magical world he creates.
Experimentation is often awakened by the dormant creativity repressed by the mundanity of the everyday routine.
Consumed by the tedious responsibilities of life, artistic souls are often bottled up awaiting their chance to be released.
By experimenting with new materials and techniques, Patrick released his.
By clicking the link below you may be introduced to his work, although to fully experience its power and beauty, it should be viewed live.
Enjoy:
http://www.stickwork.net/installations.php
In alto "Natural History" scultura di Patrick Dougherty

da I Quaderni di Nuova Scena Antica anno 3 n.2
(17 agosto 2011)

Alcuni diritti riservati