URUGUAY
WOMEN IN ART SHOW
Noemi Silvera Garcia is preparing a multimedia event about women in March 2011 at La Biennale Montevideo, resto-pub located in Sorocabana Palace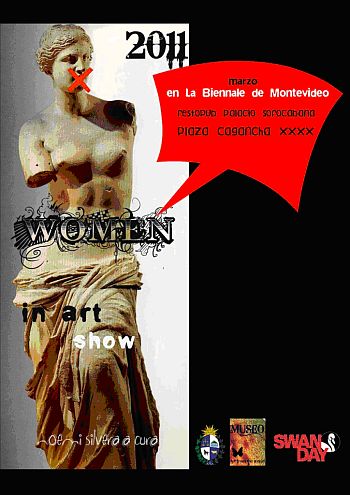 MONTEVIDEO
- Noemi Silvera Garcia, artist and Uruguayan curator, is preparing a multimedia event about women called WOMEN IN ART Show, in March 2011 at La Biennale de Montevideo, resto-pub located in Sorocabana Palace.
This is a famous palace in Uruguayan world and history; walls and newspapers spoke and speak about it, all intellectuals from '900 generation were there, making their artistic and cultural activities: writers, journalists, fine artists, etc. It's a great honor be and participate in exhibitions there; address is Plaza Cagancha 1364, Montevideo, Uruguay.
This square is named "the place of the artists" and Biennale de Montevideo doors open on this historic centre, in the neighborhood of Museo Jose Pedro Varela and Ateneo de Montevideo Museum.
The show includes painting, photography, digital art, poetry, art objects. The event lasts from March 3rd to March 17th and will become an itinerant exhibition in near future, including participation in the international May 8th events for Montevideo City.
Once the exhibition is finished, all artworks will be part of the Labtop Contemporary Art Laboratory in the Postmodern Art Museum Project (under construction) in Ciudad de La Costa, Uruguay, defined as "group exhibition Women in Art Show 2011".
The artists, either invited and own-self proposed, must send immediately a mail to:
info.smallart@gmail.com
with name, address, webpage, file images artworks, in order to confirm their participation and be selected.
Countries with representation at the moment are Argentina, Armenia, Brazil, Canada, Spain, Korea, Italy, Mexico, Peru, Poland, Portugal, Uruguay, USA, Venezuela.
Confirmed artist are:
KAREN ALEKYAN, Armenia
MARCELA ARIAS, Mexico
LEONARDO BASILE, Italy
ERALDO BIGARELLI, Italy
MARIA CRISTINA BIGARELLI, Italy
ANNA BONANNO, Italy
CECILIA BOSSI, Italy
CAM BRIVIO, Italy
CARLA COLOMBO, Italy
NUNZIA COSENZA, Italy
MINA DELIA, Italy
GIUSEPPE DELLA VOLPE, Italy
PAULA FRANCA, Brazil
CHRISTIAN FOGAROLLI, Italy
ANA MARIA GARCIA, Portugal
SILVIA GRASSI, Italy
ROSINA GUARDIA, Uruguay
MACIEJ HOFFMAN, Poland
CRISTINA LENA, Uruguay
LILIAN LESNIAK
ODILIA LIUZZI, Italy
FRANCESCO MESTRIA, Italy
KATIA MUŅOZ, Peru
MAYA LOPEZ MURO, Argentina
KATHLEEN MCHUGH, USA
MARCELA MUCCIARELLI, Argentina
SUSY NORFINI, Italy
JONGO PARK, Korea
MARCELLO PILLIA, Italy
DANIELA PISOLATO, Argentina
SIMONA POCOROBBA, Italy
GUADALUPE RODRIGUEZ, Venezuela
MAURA SAVIANO, Italy
SUSAN SHULMAN, Canada
NOEMI SILVERA, Uruguay
ALESSANDRA TRISCHITTA, Italy
PAOLO VITALE, Italy
MAYER VIVAS, Uruguay
Noemi Silvera Garcia
(2 marzo 2011)

Alcuni diritti riservati